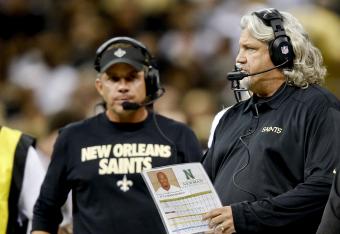 Derick E. Hingle-USA TODAY Sport
During the offseason, it was popular to argue about the return of head coach Sean Payton.
The New Orleans Saints were 7-9 in 2012, but that lowly finish was recorded while Payton was on a year-long suspension. With Payton back this season, how many extra wins would his presence provide solely because he was on the sideline?
One? Two? Could Payton returning to the Saints in 2013 possibly be worth three wins to the team?
Payton wasn't the only prominent "new" coach on staff in New Orleans. Upon his return, Payton announced the Saints' desire to switch from a 4-3 to a 3-4 defensive scheme. A little more than two weeks after Payton told the world New Orleans was moving to a 3-4, the Saints announced the hiring of defensive coordinator Rob Ryan.