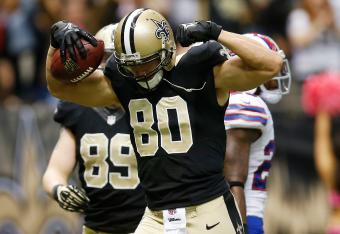 Chris Graythen/Getty Images
New Orleans Saints tight end Jimmy Graham is dealing with a partially torn plantar fascia and only played in 20 of the team's 73 offensive plays in last week's win over the Buffalo Bills, according to Pro Football Focus (subscription required). Graham still caught three passes for 37 yards and collected two touchdown catches.
Graham didn't start the game and he typically only entered on offense when the Saints got into the red zone or were in short-yardage situations. His limited playing time didn't seem to slow down the Saints, however, who scored 35 points and tallied 386 yards of total offense and 21 first downs.
According to Dr. Dave Siebert, who just happens to moonlight as a medical analyst here at Bleacher Report, Graham's foot injury isn't likely going to heal as he continues to go through the rigors of playing each week in the NFL.
"It's just how much pain can you endure?" Graham told Katherine Terrell of the Times-Picayune. "And you know, I'm pretty good at that."