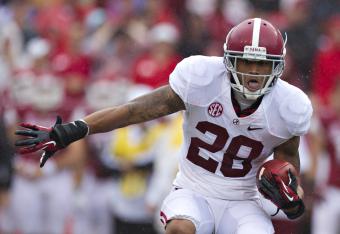 Wesley Hitt/Getty Images
Alabama cornerback Dee Milliner will undergo a surgical procedure to repair a torn labrum in his right shoulder, ESPN analyst Adam Schefter reported Thursday.
Many, including Schefter, slot Milliner as a top-five pick. But NFL Network analyst Mike Mayock had a lower opinion of the Crimson Tide corner on a conference call on Feb. 18.
"Dee Milliner for me is a guy that, if he runs fast, he can become a top 10 guy," said Mayock. "And most people think he already is. I don't. I love him as a player, love him on tape. I think he's more like the 20th pick in the draft, if I had to put a number on him. However, if he runs sub-4.5, I think he's going to be a top-10 pick."
Milliner still plans to participate in every drill at the NFL Scouting Combine except the bench press, so his speed will be on display. But how much will Milliner's injury push down his draft status?