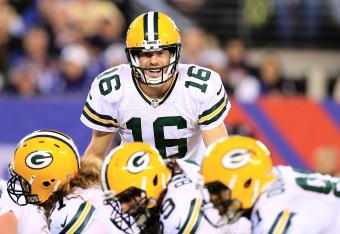 Elsa/Getty Images
The Green Bay Packers will have an opportunity to either save or sink their 2013 season when the Minnesota Vikings arrive at Lambeau Field in Week 12.
A home loss to the 2-8 Vikings, which would mark Green Bay's fourth straight overall, might just sink the Packers before Aaron Rodgers has the opportunity to revive the team's fading playoff hopes.
But if Green Bay can see noticeable improvement in several key areas, including Scott Tolzien's ability to handle the blitz, running the football against defenses designed to stop it and getting big plays out of the defense and special teams, the Packers can make their stand Sunday and provide Rodgers with a chance to get Green Bay into the postseason once he returns from his fractured collarbone.
When Rodgers will return remains unclear, but he won't play in Week 12.