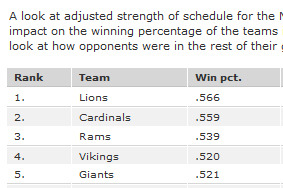 Courtesy of ESPN

There's no excusing this season. The Lions played badly in multiple facets of the game and had multiple problems off and on the field.
They also played the hardest schedule in the NFL according to Paul Kuharsky, ESPN.com AFC South blogger. Kuharsky has adjusted strength of schedule for the NFL, removing head to head games or in his words taking out "a team's own influence on its strength of schedule."
Or as NFC North blogger Kevin Seifert puts it, "Kuharsky's adjusted strength of schedule removes each team's head-to-head result from the combined winning percentage of its opponents."
Again, this is not to remove any fault from the team for a poor record, merely to give some perspective on a brutal season.