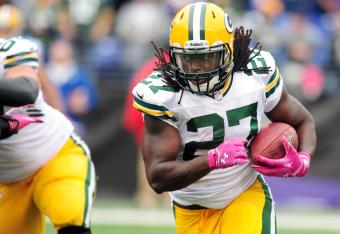 Evan Habeeb-USA TODAY Sports
Three rather simple factors separate the 3-2 Green Bay Packers from the 4-2 Chicago Bears and Detroit Lions and 1-4 Minnesota Vikings in the rough and tough NFC North.
Aaron Rodgers, the only elite quarterback in the division and an annual reason for the Packers being among the NFC contenders, is an obvious one. But a toughened defense that can step to the plate and deliver a legitimate running game that is producing at levels never seen in the Mike McCarthy era also ensure the NFC North will run through Green Bay in 2013.
No other team in the division can match Green Bay's trio of championship factors.
The Bears, Lions and Vikings each have individual parts of the formula, but none of the three has put together the entire package so far.