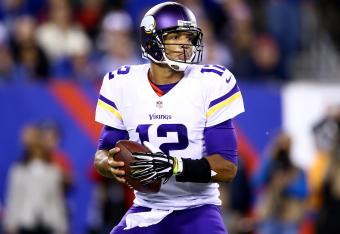 Al Bello/Getty Images
There are aspects of Josh Freeman's disastrous debut with the Minnesota Vikings that can be excused away by his situation and others that can't, but no doubt remains that Minnesota's new quarterback has to improve significantly in several different areas.
Facing the New York Giants just 14 days after signing with the Vikings, Freeman completed 20-of-53 attempts for 190 yards, zero touchdowns and an interception. He became just the second quarterback ever to attempt more than 50 passes and still throw for under 200 yards and no touchdowns, joining Dave Brown's 1995 clunker as one of the highest-volume, lowest-production passing games in NFL history.
There's really no way to spin Freeman's debut any other way: Unprepared and thrown to the wolves, he looked and played like a quarterback who should have been wearing a ball cap on the sidelines.
For all the pocket presence and toughness he showed, Freeman was wildly inaccurate to every level, his mechanics and delivery were rushed and inconsistent and his kindergarten understanding of the Vikings offense left him without any solutions at the line of scrimmage.