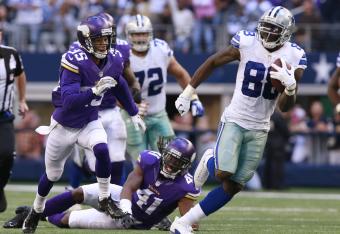 Tim Heitman-USA TODAY Sports
For the first time in over a month, the Minnesota Vikings received good enough play at the quarterback position to win a football game.
Starting for the second straight week, Christian Ponder threw for 236 yards and contributed two touchdowns to an offensive effort that pushed 400 total yards and gave the Vikings a lead late over the Dallas Cowboys. He displayed the kind of efficiency and production that had been missing during recent losses to the Carolina Panthers, New York Giants and Green Bay Packers.
Yet for the third time in eight tries this season, the now 1-7 Vikings saw a game that should have been won slip through their fingers when the defense couldn't make a stop during the dying embers of a contest.
Forget Minnesota's quarterback carousel. Until the Vikings get better on defense, it won't matter who is taking snaps under center.