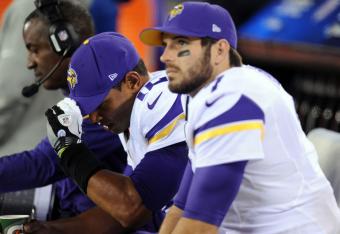 Joe Camporeale-USA TODAY Sports
A concussion to Josh Freeman will give Christian Ponder another chance to be the starting quarterback of the Minnesota Vikings, a job that continues to spin in circles for a team that doesn't appear to have a clear plan at the position.
Vikings head coach Leslie Frazier announced Wednesday that Freeman suffered a head injury during Monday night's loss to the New York Giants and that Ponder would likely get the start in his place.
"(Freeman) has concussion-like symptoms," Frazier said. "They are going to take him through the NFL protocol today, and we'll evaluate him daily. That means Christian will be working with our first unit in practice."
Frazier mostly sidestepped questions about Ponder being able to reclaim the starting job with a strong performance against the Green Bay Packers.