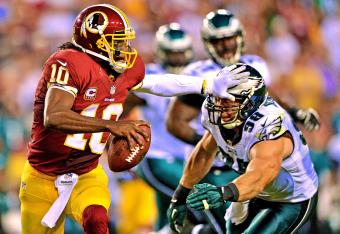 The numbers from the 2012 season will suggest otherwise, but the Green Bay Packers must still blitz Washington Redskins quarterback Robert Griffin III during Sunday's Week 2 matchup.
In his first game back from reconstructive knee surgery, Griffin III proved vulnerable in his mechanics against a crowded pocket. It was also clear that he doesn't yet have full confidence in his surgically-reconstructed knee to escape containment to the outside.
The Packers should now follow the script laid out by the Philadelphia Eagles and come after Griffin III Sunday, even if the stats from last season would deem such a strategy borderline insane.
In 2012, Griffin III was arguably the top quarterback in the game when defenses brought more than four rushers.