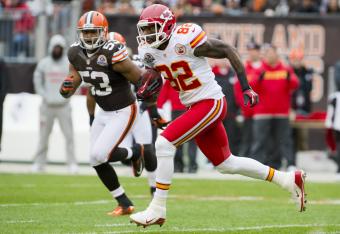 Bowe just priced the Vikings out of the receiver market.
Jason Miller/Getty Images
If I'm the Minnesota Vikings, I am considering sending Dwayne Bowe and the Kansas City Chiefs an angry letter.
Bowe's five-year, $56 million contract makes him the third highest paid wide receiver (as far as average salary goes) in the NFL (via Spotrac).
Why should they even care?
Well for starters, it just made the upcoming negotiations for a new Percy Harvin contract potentially much more tense. Harvin hasn't been in the league as long as Bowe (four years vs. six), but on average, their numbers compare pretty favorably.
As you can see by the above chart, while Bowe has clearly outproduced Harvin in terms of total numbers, he is only a bit behind in the "per year" category.