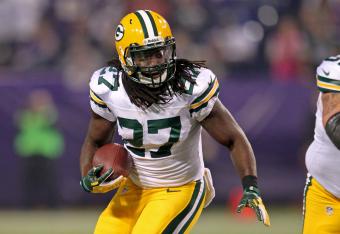 Brace Hemmelgarn-USA TODAY Sport
Very little digging is required to unearth statistics showing just how improved the Green Bay Packers are at running the football in 2013.
Through seven games, the Packers are averaging 141.4 rushing yards a game and 4.8 yards per carry, which rank third and fourth in the NFL, respectively. Compared to last season, Green Bay is averaging 35 more yards a game and almost a full yard more per carry.
If the Packers keep up their current pace on the ground, the 2013 offense would finish with almost 2,300 rushing yards, or the fifth-most in franchise history. The only Packers teams that have rushed for more than Green Bay's 2013 pace are the clubs from 1961, 1962, 1964 and 2003. And only the 1978 team had more rushing yards through seven games.
The turnaround has been drastic.
For an offense that didn't have a 100-yard rusher in over 40 straight regular-season games, the Packers have featured three different running backs hitting that milestone in 2013.