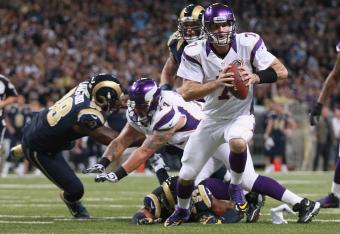 Dilip Vishwanat/Getty Images
We've spent the last few months marveling at Adrian Peterson's efforts, and after this past week, it's not hard to imagine the Vikings will continue to use him early and often for the last two games.
Peterson gives them the tool they need to win games. He also gives them the tool they need to cover for Christian Ponder.
At this point, there is no other way to say it—Ponder is a liability.
I'm not saying the Vikings should ditch him, replace him or give up on him. You want to give a quarterback a few years to develop and really Ponder is only a year-and-a-half into his tenure as starting quarterback of the Vikings.