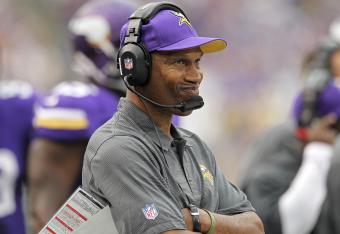 Brace Hemmelgarn-USA TODAY Sport
The reign of Leslie Frazier as head coach of the Minnesota Vikings may have an approaching expiration date after an embarrassing home loss to the Cleveland Browns dropped his team to 0-3 to start 2013.
Less than a month into a contract year for Frazier, the Vikings have already pushed their playoff chances to the very brink of plausibility. And without a postseason appearance this season, Frazier might not be long for Minnesota's top job.
Since 1990, or the first year the NFL went to a 12-team playoff system, only three teams have recovered from an 0-3 start to make the postseason: the Buffalo Bills in 1998 (finished 10-6), the Detroit Lions in 1995 (10-6) and the San Diego Chargers in 1992 (11-5).
The Vikings can all but forget about the Super Bowl, too. Not one of those three teams advanced past the Divisional Round of the playoffs.