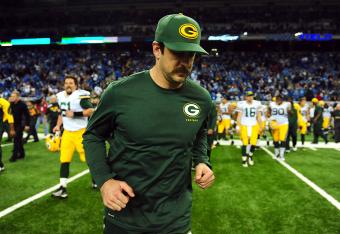 Andrew Weber-USA TODAY Sports
No injury in the NFL this season has been as devastating, significant or season-altering as the fractured collarbone suffered by Green Bay Packers quarterback Aaron Rodgers.
On the surface, that fact is very easy to see.
Only a month ago, the Packers were 5-2, riding a four-game winning streak and staring straight ahead at a schedule that appeared primed to make Green Bay a 12- or 13-game winner. For all the injuries elsewhere, Rodgers was holding together a football team that looked like a Super Bowl challenger in the NFC.
Just one hard sack by Chicago Bears defensive end Shea McClellin 31 days ago changed a season, a division race and a conference. When Rodgers broke his collarbone on the first series of Green Bay's 27-20 loss to the Bears on Nov. 4, the Packers began nose-diving towards irrelevance.