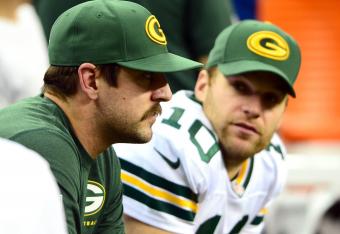 Andrew Weber-USA TODAY Sports
The Green Bay Packers have been universally lambasted for their handling of their backup quarterback position this season.
Ever since Aaron Rodgers went out with a fractured collarbone on Nov. 4, the once 5-2 Packers have gone five straight games without a win. Three times, Green Bay lost by 10 or more points, and only in a 26-26 home tie with the then two-win Minnesota Vikings did the Packers get what can be considered average quarterback play without Rodgers.
The results of the last month-and-a-half now make it easy to blame Green Bay's season-defining slump on the mismanagement behind Rodgers well before the Packers' midseason crisis struck.
Back in August, the Packers cut loose Graham Harrell and B.J. Coleman—the two quarterbacks well-versed in their complex offense—before failing to resurrect Vince Young's career and then settling on veteran Seneca Wallace just days before the season opener. When Wallace lasted just one full game in relief of Rodgers, Green Bay was forced to uncharacteristically scramble with the signings of Scott Tolzien and Matt Flynn.