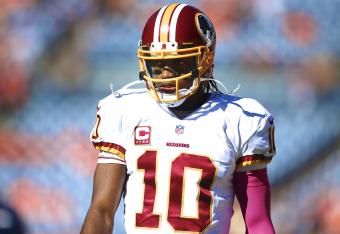 There are many areas in which Washington Redskins sophomore quarterback Robert Griffin III hasn't been himself this season. When it comes to his overall prowess as both a passer and rusher, it's been a roller-coaster season. But there's one thing Griffin has been doing consistently, even when he's shown flashes of his 2012 self, and that's turning the ball over.
In fact, on paper, Griffin has been more sloppy with the football during the past three weeks than at any other point thus far in his NFL career.
Last year, he had a league-low interception percentage of 1.3, throwing just five picks on 393 passes and 488 dropbacks. During the first four weeks this season, that increased to 2.4. And during the most recent three weeks, it has kept plummeting to 4.1 (four interceptions on his last 98 throws).
During that same time frame, Griffin has handled the ball 121 times (113 dropbacks, 98 throws, seven sacks, eight scrambles, eight designed runs) and has five fumbles. That's 4.1 fumbles per 100 touches, which is more than double his rate from the first 19 games of his career (1.9).