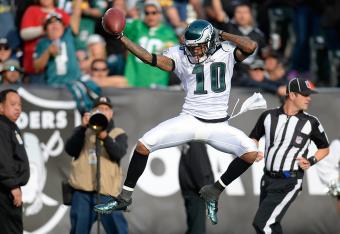 Thearon W. Henderson/Getty Images
This is a year in which everything in the NFL is wide freakin' open.
The league's only undefeated team, Kansas City, has struggled to beat Houston, Cleveland and Buffalo the last three weeks. Division leaders like the Packers, Patriots and Bengals have major injury problems; the defending Super Bowl champion Ravens are 3-5; and other supposed elite teams like Seattle, San Francisco, Denver and New Orleans have slipped up enough to keep things interesting.
That covers every division except the NFC East, which is the most wide open of them all. And that's the first of many reasons why the Philadelphia Eagles are quickly becoming a team to watch as we head toward the home stretch of the 2013 regular season.
Had the inconsistent, injury-riddled and unreliable Dallas Cowboys not put together a last-minute touchdown drive to salvage a victory against the 1-7 Vikings Sunday, Philly would be tied for first place in the East right now. The Eagles remain a single game back, but with seven to go. And based on what's been happening of late, it wouldn't be surprising to see Chip Kelly's team blow past Dallas and pull away from the 'Boys, Redskins and Giants between now and the Dec. 29 conclusion to the 2013 campaign.