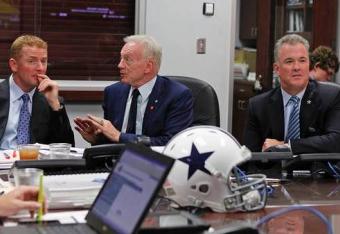 Barstoolsports.com

Drafts can't be fully judged immediately. But they can be partially judged immediately, and right now, I'm partially judging the hell out of the Dallas Cowboys for what feels like another unfocused, disorganized approach to selecting prospects to improve the team.
One night after reaching for an interior offensive lineman with third- and- fourth-round grades after trading down to the bottom of Round 1, Dallas spent its first two picks Friday night on two more offensive players who have no chance at starting while ignoring a defense in need of support as it transitions to a new scheme.
The 'Boys, who could have had the draft's best tight end, Tyler Eifert, in the first round, took tight end Gavin Escobar in Round 2 who wasn't good enough to maintain a full-time role with San Diego State in the Mountain West Conference.
Could this team have used another tight end? Sure, in Round 7. A dude who can actually block and would complement Jason Witten and James Hanna, rather than becoming Witten 3.0.