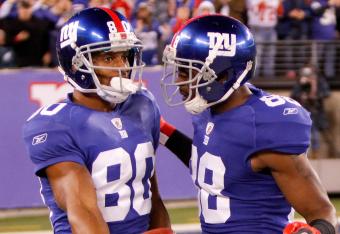 USA TODAY Sports
Three months, people. It feels like a long time, but the 2013 NFL season will be here faster than you realize. In the meantime, we might as well speculate, because who doesn't love speculation and predictions?
Here are four bold and quasi-bold projections for the 2013 New York Giants.
1. Victor Cruz and Hakeem Nicks will start Week 1, combine for 2,700 yards and 20 touchdowns
I'm not worried about Cruz holding out because these things rarely span into the regular season, and Nicks has only been absent for voluntary activities. Nicks' agent has also stated that his client's contract isn't a factor.