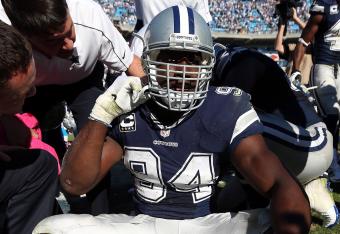 Streeter Lecka/Getty Images
The Dallas Cowboys have begun the process of trimming fat and cutting costs in order to get under the salary cap by the start of the new league year, and DeMarcus Ware is subject No. 1.
Ware has agreed to restructure his contract in order to save the team about $4 million against the cap for 2013, according to ESPN's Adam Schefter.
Rather than take the New York Giants' route by releasing overpaid veterans, the Cowboys appear as though they're going to spend much of the next two weeks redoing deals. Guys like Tony Romo, Doug Free, Jay Ratliff, Miles Austin and Jason Witten are also restructure candidates. Schefter reports that the team plans on reworking about a dozen more contracts between now and the start of free agency on March 12.
In that case, maybe they're serious about making a run at re-signing Anthony Spencer. In fact, with that many deals being restructured, Dallas might also have the room to invest in some out-of-house free agents, too. I just hope this doesn't come back to bite them harshly in a couple of years.