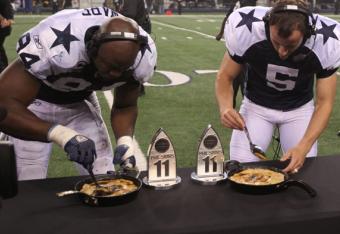 Matthew Emmons-USA TODAY Sports
The Dallas Cowboys are 28-15-1 all time on Thanksgiving, which works out to be the best Turkey Day winning percentage in NFL history, at least among teams that have participated in at least eight of those games.
Now, long-term historical stats mean very little when we're breaking down games within a particular season, but the fact that the 'Boys have won five of their last six Thanksgiving games with Tony Romo at quarterback means something.
It's a huge advantage playing at home when your opponent is traveling on three days' rest, especially when that opponent is the mediocre Oakland Raiders, who are jumping multiple time zones for an afternoon game only 96 hours after a deflating loss to Tennessee. Oakland's only road victory thus far in 2013 came over the hapless Texans, so the odds aren't in their favor at AT&T Stadium.
But you know what they say. Any given Sunday, or in this case, Thursday.