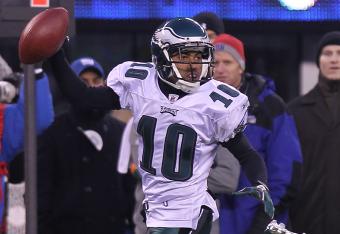 Nick Laham/Getty Images
Last month, it was deemed by voters at NFL.com that Philadelphia Eagles star DeSean Jackson single-handedly executed the greatest football play of all time. Said play took place against the New York Giants in 2010, when Jackson recovered his own muff and went 65 yards on a game-winning punt return with no time left on the clock.
Jackson hasn't scored on a punt return since that day, as he's rarely been used on special teams. But with all things seemingly new in Philadelphia right now, something old could become new again under Chip Kelly and Co.
"Punt return is going to be a big factor," Jackson said earlier this week after fielding punts in practice, according to PhillyMag.com's Sheil Kapadia. "Kind of bring my niche back out there and help that punt return team. Not only that, just go out there and make plays, get that electrifying unit back, to be able to go out there and score touchdowns at any given time."
Jackson returned just a single punt in 2012, and it went for a three-yard loss. In 2011, he had the fourth-lowest average in the league (6.7) among those with at least 16 returns. And even his 2010 average of 11.6 (ninth in the league) was boosted dramatically by that play against the Giants.