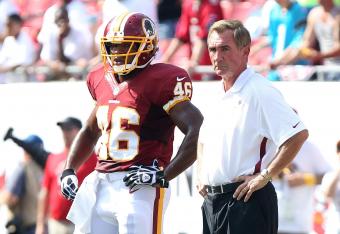 Kim Klement-USA TODAY Sports
Alfred Morris had one hell of a rookie season. The Washington Redskins' sixth-round pick finished second in the NFL in rushing yards, second in rushing touchdowns and fourth in yards per attempt among backs with at least 200 carries.
Morris is a driven 24-year-old who, by all indications, had a very productive first full offseason as well, so on the surface you'd be crazy not to believe he'll continue to flourish in his sophomore season.
From the very start of his career in Washington, the good news for Morris has been that he was drafted by Mike Shanahan and the Redskins. That Shanahan zone-blocking scheme never seems to fail and has turned a lot of late-round picks into stars.
The problem, though, is that Shanahan's backs rarely actually string together multiple successful seasons. Often, it's on to the next one, just like that.