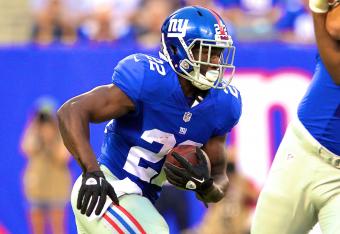 The 2013 NFL regular season kicked off just four days ago, but boiling points are already being reached in regard to New York Giants running back David Wilson and his inability to avoid costly mistakes.
Wilson fumbled twice and whiffed on a key red-zone block in the Giants' season-opening Sunday Night Football loss to the division-rival Dallas Cowboys. As a result, the 2012 first-round draft pick spent the final 27 minutes of that contest on the sideline.
Also as a result, the Giants have signed veteran back Brandon Jacobs to shore up a backfield that is now in flux. Jacobs is 31, which makes him a senior citizen at that position. Ahmad Bradshaw is gone. Andre Brown, who was supposed to be the third-down back, is out at least half the year due to a broken leg. Da'Rel Scott, who also made a costly mistake in the opener, is hurt now as well, and Michael Cox is just a rookie.
That's it. You can't give up on first-round picks this quickly and the Giants clearly don't have that luxury based on the contents of the previous paragraph. Naturally, Wilson's ball security has become the hottest topic in the New York sports world, which is why everyone involved is getting testy.