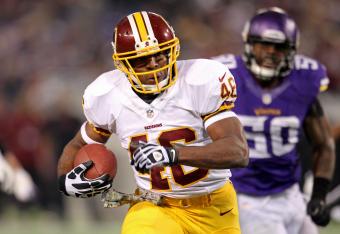 Brace Hemmelgarn-USA TODAY Sport
The Washington Redskins fell to 3-6 Thursday night in Minnesota, coming up short on a last-minute drive that could have forced overtime. Earlier, we noted that Robert Griffin III doesn't deserve the blame for that loss or the struggles the 'Skins have experienced this season. But if that's the case, running back Alfred Morris should also be off the hook.
Morris, who leads all NFL running backs with 5.2 yards per attempt. had a season-high 139 yards on 26 carries, but we were surprised by his lack of involvement on that final series.
The second-year Florida Atlantic product reached out on Friday to discuss his involvement in the Fuel Up to Play 60 "Make Your Move" campaign, which gave us a chance to discuss that, Thursday's game and the Richie Incognito-Jonathan Martin controversy in Miami, which has taken the league by storm.
Bleacher Report: I was really surprised to see that you didn't get the ball on the final 11 plays of last night's game, and you didn't get much work in the fourth quarter against Denver despite the fact you guys led at the outset. Has that been frustrating for you?