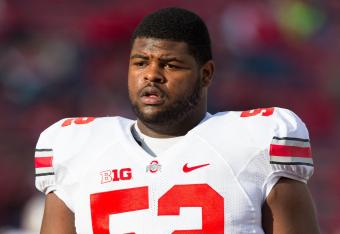 Jeff Hanisch-USA TODAY Sports
The New York Giants added more than a dozen new players to the roster last weekend, with seven joining the organization via the draft.
We've had a chance to think about all of the new additions they made at Radio City Music Hall and we're now ready to make some projections for each draft pick.
Justin Pugh: -5.0 PFF Rating in 12 Starts at Right Tackle
The Giants don't usually throw rookies into the starting lineup from the get-go, regardless of what round they were drafted in. I get the feeling, though, that it won't take long before they replace David Diehl with Pugh, who was the 19th overall pick out of Syracuse.