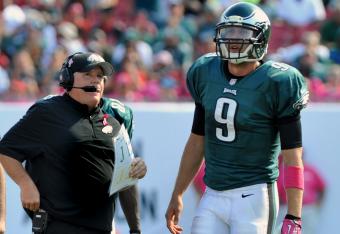 Al Messerschmidt/Getty Images
We're about to find out if the Philadelphia Eagles are for real.
With an equally hot opponent coming to town and the Dallas Cowboys keeping the pressure on in the NFC East, Philly can't afford to drop the ball at home coming out of its bye week Sunday against the Arizona Cardinals.
The Eagles technically won four in a row to cap the 2011 season, but that campaign was long lost at that point in time. Philadelphia hasn't actually won four straight games without something at stake since 2009.
But again, the Cards are hot, too, having not lost since Week 7. That defense is as tough as they come, and the Eagles are likely in for their biggest challenge yet.