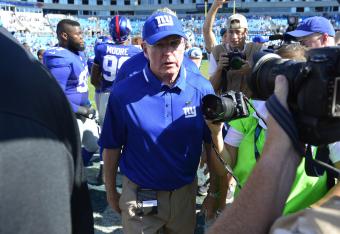 Bob Donnan-USA TODAY Sports
The New York Giants have overcome long odds before, but this might be insurmountable. Since 1990, only three teams have made the playoffs after starting 0-3—and zero since 1999.
Yes, the Giants have a knack for feeding off of doubt, but the G-Men aren't just any old 0-3 team.
They're an 0-3 team coming off of their worst loss in almost a decade and the most lopsided defeat of head coach Tom Coughlin's career. They're 0-3 with a point differential of minus-61, which is only a field goal ahead of the historically abysmal Jacksonville Jaguars. They're 0-3 with a league-high 115 points against (no other NFL team has given up 100).
And they're 0-3 this season but actually 1-5 in their last six games overall. In those five losses, they've been outscored 182-68.