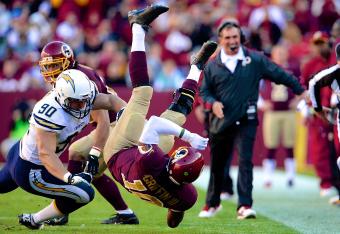 The Washington Redskins were victorious Sunday against San Diego, which some will say is all that matters. They're hanging around in the wide-open NFC East. They went on to win the division after a 3-5 start in 2012, and they're in the exact same spot right now.
But you'll recall that Washington's 2012 Super Bowl chances were ultimately poisoned because franchise quarterback Robert Griffin III was finally victimized by the constant beatings he was receiving.
As a rookie, Griffin took too many hits. Nobody will dispute that. It caught up to him when he injured his right knee twice. The first injury—suffered against Baltimore in December—cost him his mobility, and the second cost the Redskins a playoff game against Seattle before sending RGIII to Dr. James Andrews' operating room.
That torn ACL and PCL also cost Griffin the entire 2013 offseason. But did he learn anything from that career-threatening experience? Apparently not. Because if Griffin was thinking even slightly beyond the moment on a play-to-play basis, collisions like these wouldn't still exist: