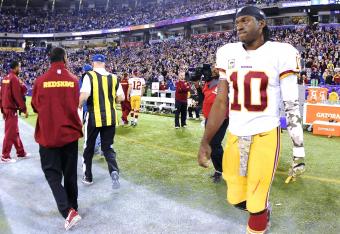 You know the age-old quarterback dichotomy: When your team wins, you usually get too much of the credit. When your team loses, you usually take too much of the blame. You're usually the face of the organization, and Robert Griffin III is certainly the face of the Washington Redskins.
He's the franchise, and right now that franchise is sputtering. It's yet to win back-to-back games this season and is coming off an extremely disappointing loss to the Minnesota Vikings, who entered the week with a 1-7 record.
The Redskins are 3-6, but so is RGIII. He's the only individual lassoed with that stain. The secondary is bad, but it isn't 3-6. London Fletcher has struggled, but he isn't 3-6. Pierre Garcon and Alfred Morris aren't 3-6, nor are Brian Orakpo, Ryan Kerrigan and DeAngelo Hall.
Griffin, though, is 3-6.
It doesn't seem to matter that he posted a 114.8 passer rating in Thursday's loss, throwing three touchdown passes and no picks while completing 16 of 21 first-half passes before the offensive line decided to go on strike in the third quarter.