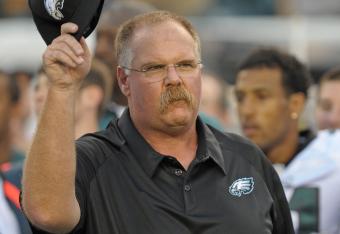 Eric Hartline-USA TODAY Sports
Donovan McNabb will be roundly and wholeheartedly cheered when his No. 5 is retired at halftime on Thursday night at Lincoln Financial Field in Philadelphia. McNabb was the Eagles' quarterback during the team's most successful era in six decades, so it all makes sense.
But that ceremony will take place only about 90 minutes after a great number of those very same fans boo the head coach from that very same era—the man who, against many of those fans' wishes, drafted McNabb in the first place.
If aliens are watching from somewhere in the universe, they'll be confused. It's complicated. It's a human thing and a sports thing. And more precisely, it's a Philly sports thing.
Like Reid, McNabb is no longer an Eagle. Unlike Reid, he's no longer an enemy. Officially retired, he has no plans to inflict pain against his former friends and neighbors, and time and hindsight have helped his legacy in the City of Brotherly Love.