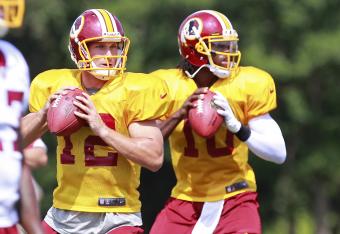 Geoff Burke-USA TODAY Sports
The Washington Redskins currently have four veteran quarterbacks on their roster. And by veteran, I mean guys that have actually played in the NFL before.
With Pat White joining the team this week and Rex Grossman returning on another one-year deal, the 'Skins now have two former first-round picks, a former second-round pick and a former fourth-round pick in the QB room.
That's not a bad problem to have, but you obviously can't keep all of them beyond the offseason. Some thoughts...
Kirk Cousins is safe