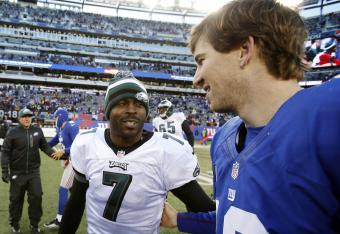 The Star-Ledger-USA TODAY Sports
I can't remember a time when the Philadelphia Eagles and New York Giants met with both teams being in such bad shape. Both NFC East squads are riding hearty losing streaks, with the G-Men at 0-4 and Philly 1-3 despite beating the Redskins in Week 1.
In fact, dating back to last season, these two teams have lost 17 of their last 22 combined games. They turn it over too often, get beat too often and lack depth on both sides of the ball.
Now, they're both trying to stay afloat in early October. With that said, the winner on Sunday at MetLife Stadium will be alive in the league's weakest division. The loser can probably start thinking about 2014.
Here's our final preview, along with a prediction.