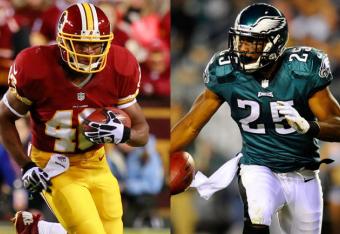 Courtesy USA Today

It's been a while since we've busted out a "Would You Rather," so I figured we'd wrap up the week on the NFC East blog by comparing two NFC East running backs with hefty résumés.
One, LeSean McCoy of the Philadelphia Eagles, is coming off a disappointing season but has already accomplished quite a lot during his short career.
The other, Alfred Morris of the Washington Redskins, is coming off a huge season but was a no-name sixth-round draft pick before that.
If you went off of what McCoy and Morris did in 2012 alone, this wouldn't appear to be much of a debate. Here's the breakdown: