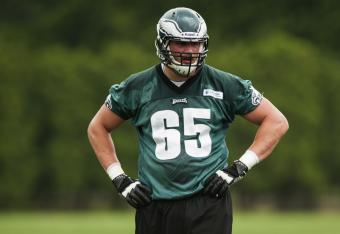 USA TODAY Sports
The Philadelphia Eagles invested their highest draft pick of this century in Oklahoma offensive tackle Lane Johnson, so I have little doubt that the Eagles will get him into the starting lineup this season—regardless of how much the somewhat raw rookie struggles.
It's not particularly concerning that 2012 fifth-round pick Dennis Kelly has been taking first-team reps ahead of Johnson early on in organized team activities, but it is a small sign that Johnson isn't quite ready yet.
That might change between now and Philadelphia's Monday Night Football opener in Washington on September 9, but it's another indication that he could experience more growing pains than expected.
Ben Muth from Football Outsiders provided a rather discouraging assessment of Johnson's pass-blocking skills in an analysis published last week: