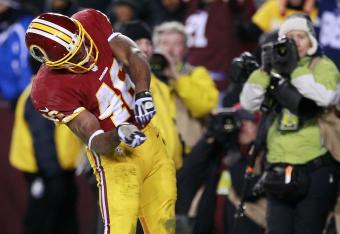 Geoff Burke-USA TODAY Sports
Nice guys finish 173rd. That's what those who know Alfred Morris must have been thinking when the humble Florida Atlantic running back was passed on 172 times in the 2012 NFL draft.
Of course, that all changed when the nice guy finished first during his rookie season with the Washington Redskins—first by way of becoming the leading single-season rusher in franchise history. Or at least second, because that's where he finished in the NFL rushing race after becoming only the fourth rookie back in NFL history to post 1,600 yards on the ground. Only future Hall of Famer Adrian Peterson ran for more.
Amazingly, despite the fact that the rest of the Washington offense has slowed down, it seems the 24-year-old has gotten better in his sophomore season.
Defenses are now giving him more attention than ever, but Morris has maintained a top-notch average of 4.8 yards per carry and is only four yards shy of the 1,000-yard mark on the season with four games remaining. His carries are down because the 'Skins have trailed a lot and because he's been spelled by Roy Helu Jr., but he has undoubtedly been the MVP of this Washington team.