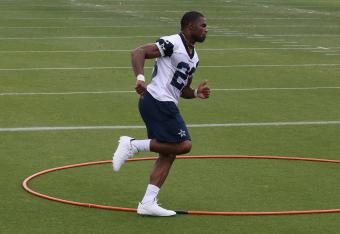 USA TODAY Sports
Injuries happen every year and to every team during organized team activities. Some are serious, and others are not. Usually, when the injuries aren't breaks or tears that will require major surgery and/or long recovery periods, there's little to be concerned about when the regular season is still four months off.
So in Dallas, there's little reason to stress out over the fact quarterback Tony Romo is missing the start of OTA's after undergoing a minor procedure to remove a cyst from his back. On the surface, the "hamstring tweak" that is keeping running back DeMarco Murray off the field would seem to be even less innocuous but that's before you consider Murray's propensity for getting hurt.
Murray not only missed six games and was limited in others last year due to a sprained left foot, but he also failed to make it through his rookie season before suffering a broken right ankle and a high ankle sprain. Earlier that year, a hamstring injury forced the third-round pick to sit out a large chunk of training camp and the preseason. Also a bad hammy caused him to miss the 2008 BCS national championship game at Oklahoma (where injuries killed his stock late in his college career).
He doesn't seem worried. "It's really nothing,'' Murray told Dallas radio station 105.3 The Fan earlier this week. "It's a hamstring thing. Very minor, really just a precautionary thing.''