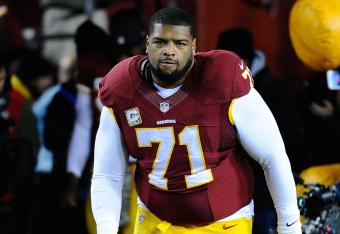 Trent Williams has become a Pro Bowl-caliber left tackle in D.C.
Brad Mills-USA TODAY Sports
As we enter the final month of the 2013 NFL regular season, here are some key stats that help explain why the Washington Redskins are 3-9 through 13 weeks. And yes, we're going to focus mainly on the franchise quarterback, since he represents the biggest investment this franchise has ever made.
37.7: That's the percentage of dropbacks on which Robert Griffin III has been pressured this season, according to Pro Football Focus (subscription required). We keep hearing how bad Griffin's pass protection has been, and that's valid. But 12 other quarterbacks, including the very successful Cam Newton have been pressured more often, according to PFF. In fact, he's only been pressured slightly more often this year than he was last year (34.8), and PFF ranks the offensive line ninth in football in terms of pass-blocking efficiency.
But based on numbers provided by PFF, he isn't scrambling faster, he isn't throwing faster or slower and he isn't being rushed within 2.5 seconds of the snap any more or less often. His pocket-time stats are almost identical. It might just feel a lot worse because he's picking up less big runs.
38.3: That's the number of rushing yards Griffin is averaging per game, which is down nearly 30 percent from 54.3 last year. He's running less (6.8 times per game as opposed to 8.0) but is gaining fewer yards per rush (a decline from 6.8 to 5.6).