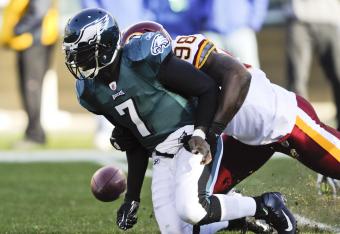 Howard Smith-USA TODAY Sports
The NFC East is expected to be as tight as can be once again in 2013. Bovada in Las Vegas predicts that all four teams in the division will win between seven and nine games.
So it's not surprising that you can make perfectly solid arguments in favor of the Dallas Cowboys, New York Giants, Philadelphia Eagles and Washington Redskins finishing first or last in a division that has come down to the wire four years in a row.
Here are the arguments for why Philadelphia will remain in the basement in 2013.
ON THE OTHER HAND: WHY THE EAGLES WILL WIN THE NFC EAST IN 2013