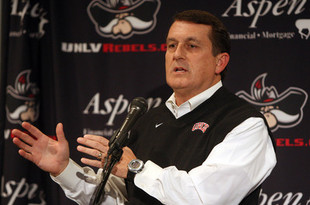 By Chris Golightly
After five long disappointing seasons, Mike Sanford is out as UNLV head football coach, the Las Vegas Sun reports.   The far-from-surprising announcement comes 24 hours after the Rebels seventh loss, an error filled 45-17 defeat to the Air Force Falcons..
Previews/Predictions
by Jeremy
#9 San Diego State The UNLV Rebels come in at number eight in the preseason projections, and if that is reality then Mike Sanford will be out as head coach. If you missed any previous previews the links to those are provided above...