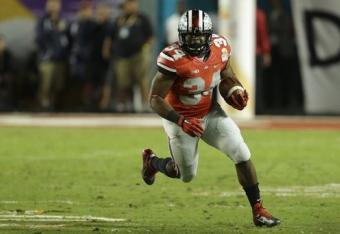 Wilfredo Lee/Associated Press
The running back position isn't valued as highly as it might have been in previous years, but you still need a good running game to win a Super Bowl. In fact, the Seattle Seahawks rode Marshawn Lynch to the Lombardi Trophy this past season, following a recipe the Baltimore Ravens, New York Giants and others laid the groundwork for in year's past.
We know you need a running back, but does the 2014 draft class have any worth taking?
The goal of the NFL Draft 100 is to look at the film and determine who the best prospects are.
The B/R NFL Draft 100 metric is based on scouting each player and grading the key criteria for each position. The criteria are weighted according to importance on a 100-point scale. Unlike our NFL 1000 series, this project factors in upside for each player, as the NFL draft is as much about upside as it is about production.