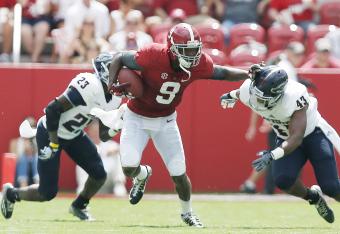 Brynn Anderson/Associated Press
With the NFL heading into Week 4, draft season is in the very near future for many fans. With NFL scouts on the road, college teams getting into the heart of their schedules and NFL teams starting to show their weaknesses, it's always important to keep at least one eye on the upcoming 2015 NFL draft.
Each Friday you'll get a look inside my scouting notebook with this article. You'll find rumors, notes, analysis and updates on which players are moving up and down my personal draft board. Hopefully you'll learn a thing or two along the way, too.
— In talking to people around the league, the general belief on how the Jacksonville Jaguars can best improve, as summed up by one pro personnel scout, is to "draft defense with every pick they have." Head coach Gus Bradley has a defensive background, but his team is struggling to stop opposing offenses and looks simply outmatched at most positions.
— Jameis Winston is sure to dominate the headlines until his name is called at the draft, but this week I asked scouts and general managers which NFL team he'd best fit from a scheme perspective: