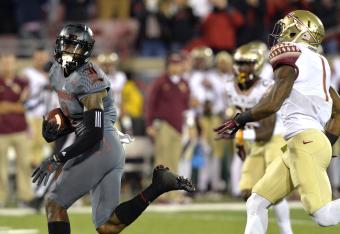 Timothy D. Easley/Associated Press
The 2014 NFL season is at the halfway mark. That means it's NFL draft season, too.
Of the 32 NFL teams, 13 already have losing records. Teams like the Raiders (zero wins), Jets (one win), Jaguars (one win), Buccaneers (one win), Falcons (two wins) and Rams (two wins) are already focusing on next year. We are, too.
It's officially anonymous scout season, and I wanted to spend the beginning of this article addressing that. I will not use rumors or notes from coaches, executives, players or scouts that aren't vetted. If I share things like last year's comparison of Teddy Bridgewater to fictional quarterback Willie Beaman, it's to show the readers how NFL teams think. Much like retweets aren't always an endorsement, sharing information from anonymous sources isn't always an endorsement of their opinion. It's only to peel back the curtain on how NFL teams operate. So, what are NFL teams thinking?
— The 2015 draft class doesn't look particularly strong overall, but there are a few players NFL scouts feel are safe picks. One NFC college scouting director told me this week that USC's Leonard Williams is viewed by his team right now as the safest pick in the class. Williams projects as a 5-technique in a 3-4 defense or a 3-technique one-gap player in a 4-3 scheme. He's currently my No. 3 overall player in the draft.