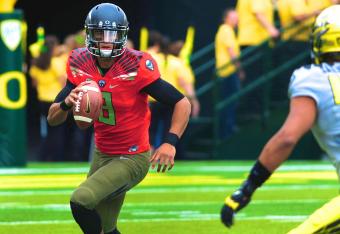 Getty Images
The most important position in football is, and always will be, quarterback. If you don't have a quality QB in the NFL, your entire focus becomes finding one. Teams will spend draft picks and boatloads of money trying to find the right guy.
The next wave of quarterback talent in college is very good, with Jameis Winston, Christian Hackenberg, Bryce Petty and others showing NFL-level talent.
However, the player who does it best comes from an offense many still consider to be a gimmick. How will the NFL view Oregon's Marcus Mariota, and just how good is he?
The Tale of the Tape