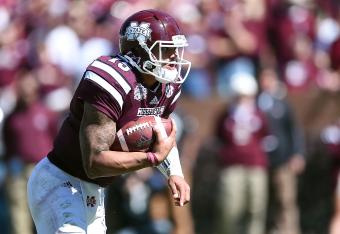 Stacy Revere/Getty Images
Following a crazy week of college football, this week's Scouting Notebook is jam-packed with inside information on which players NFL teams are loving, cooling on and discovering as scouts continue their road work.
We'll also take a look at an updated draft order and team needs for the first round of the 2015 NFL draft, discuss another exciting 2016 prospect and see which college stars are already drawing comparisons to Jadeveon Clowney and J.J. Watt.
— Mississippi State quarterback Dak Prescott has turned heads with back-to-back wins over LSU and Texas A&M. With a game against No. 2 Auburn on the slate this weekend, it's worth noting that people close to Prescott are already putting out feelers about his NFL potential for the 2015 class. Prescott, whose mother passed away in November of 2013 to cancer, is said to be looking for a way to provide for his family sooner rather than later. He's currently ranked as a second-round talent on my big board.
— Another player who has been poking around for news on his draft stock is LSU defensive back Jalen Mills. The excellent cornerback/safety prospect is another in a long line of talented defensive backs to come out of LSU, and he carries a late first-round grade on my board currently.