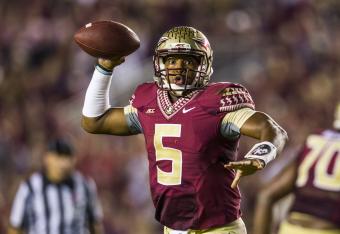 Mark Wallheiser/Associated Press
Every game matters in college football, but as the season turns to premier matchups between top-tier teams, every evaluator gets excited about the star power on both sides of the field.
This past weekend delivered as Notre Dame and Florida State went down to the wire—allowing Heisman Trophy winner Jameis Winston to show off his clutch ability with the game on the line. And while one player excels, others struggled.
How did the past week in college and NFL football affect player rankings and the upcoming draft class?
— Let's get the weekly Jameis Winston talk out of the way. After a thrilling fourth quarter against Notre Dame, this text came in from one NFL college scouting director: "Too bad about the off-field, because Winston is the best player in the country." More on Winston, and some closure on him, in Five Up, Five Down.