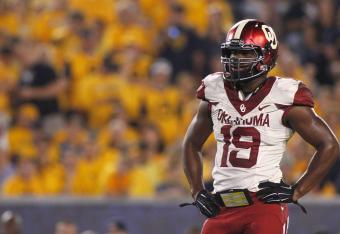 Justin K. Aller/Getty Images
There is never a dull moment in the land of NFL draft coverage. In what is normally a quiet week in November, two top prospects (Marcus Peters, Stefon Diggs) were disciplined by their schools, a top-tier tackle prospect (Cedric Ogbuehi) is moving back to the right side due to injury and the play of senior quarterbacks continues to disappoint on film.
Who moves up and down this week? We'll dive into that, check in on an updated Mock Draft and hit on the latest news, rumors and insights from around the NFL.
— I reported in this space last week that Washington cornerback Marcus Peters wasn't liked by head coach Chris Petersen, per an area scout assigned to the school. Peters was dismissed from the team on Thursday morning, per The Seattle Times. This could affect his draft stock once assistant coaches and head coach Petersen start talking to NFL scouts about Peters, but general managers tend to deal more in traits and upside versus on-the-ground riffs with coaches. Peters was my top-ranked cornerback this season and a potential top-10 pick. His stock is holding until more information can be gained.
— Staying at the University of Washington, two-way star Shaq Thompson had a season-high 174 yards as a running back against Colorado last week and will start in the backfield again this week against UCLA. Thompson's home in the NFL is still at outside linebacker, though. One scout I talked to this week said Thompson is the only 4-3 outside linebacker they rank in the first round currently.