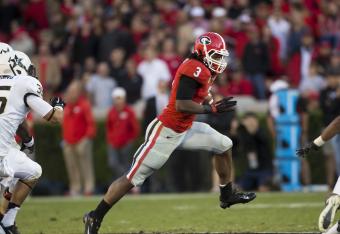 John Bazemore/Associated Press
The best player in the country will not suit up Saturday and may never do so again in college football.
Running back Todd Gurley is out after the University of Georgia handed down an indefinite suspension. The star tailback and Heisman Trophy candidate is being investigated for an alleged violation of NCAA rules, the school announced Thursday evening.
ESPN's Joe Schad reports "the NCAA investigation centers around whether Gurley was given money for autographs, memorabilia or the use of his likeness. Georgia officials did not reveal the alleged violation."
That's legal for me or you to do but not for a college "student-athlete."