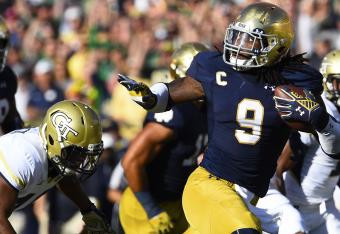 Mike DiNovo-USA TODAY Sports
If you read this title and thought, "It's way too early for a mock draft," well, just try to have fun and enjoy this for the entertainment purposes. But if you saw this article and were instantly excited about the future of your favorite team, then you're the folks I'm writing for. The people who are already watching the Cal Bears while wearing their Chicago Bears hoodie to see if Jared Goff is the kind of quarterback you can build around. If you're watching Ohio State's Ezekiel Elliott and not thinking about the Heisman, but wondering how he'd look running behind the Miami Dolphins offensive line, then you're my kind of people.
How does a mock draft in October work? The draft order is based on Super Bowl odds, and I've included seniors and those underclassmen (redshirt sophomores, juniors) who I've heard are interested in the NFL at this time. This is a class dominated by juniors, and I'm not predicting or advising any of them to leave college for the pros.
So how about team needs? This is a snapshot of what each team looks like right and takes into account age, injuries, salary cap and upcoming free agents. Some positions might not seem like a need today, but they could be thanks to player losses in free agency.
And a big reminder. An all-caps REMINDER: The draft order is not based on any kind of prediction. They're simply the most recent Vegas Insider Super Bowl odds. After Week 8 I'll start using current standings for draft order.