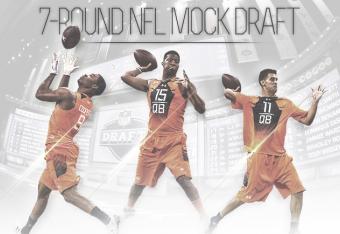 B/R via Getty Images
The NFL released 32 compensatory picks Monday evening—meaning we now know the full order for the 2015 draft.
With free agency, trades and now compensatory picks coming into focus, the draft is starting to line up. Of course we can't know yet which teams will be willing to trade picks to move up or down the board, but team needs and player value are becoming much more solid. And with that, it's time for a complete mock draft.
Pick by pick, here's how the 2015 NFL draft looks five weeks out. This is a look not at what I would do as general manager of each team, per se, but what I'm hearing and predicting will happen based on needs, player value and holes expected to be filled between now and April 30.
The first round of the NFL draft is still a long time away, but here's an educated guess at what will happen when Commissioner Roger Goodell walks to the podium in Chicago.