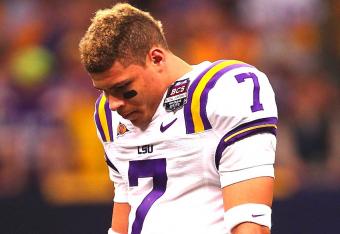 It seems like every few months we're writing an article updating the world on Tyrann Mathieu's draft stock. This might be the final nail in the coffin. Or rather, it should be.
Mathieu was arrested on Thursday, Oct. 25 and charged with "simple marijuana possession" after officers were dispatched to Mathieu's shared apartment in response to "a complaint about a man attempting to force his way in to the complex through a security gate."
Once officers arrived at that man's door, Mathieu answered. According to the report, officers smelled marijuana and obtained consent from the former LSU cornerback to search the apartment. Inside, they found 10 bags of marijuana, a digital scale and a marijuana grinder.
Mathieu was recently kicked off the LSU football team after failing a drug test, but the standout cornerback was back at LSU this fall attending classes, hoping to be reinstated in the spring for the 2013 season. Mathieu can stop worrying about getting back on the team and start worrying about his future.