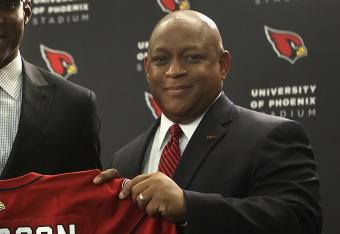 Christian Petersen/Getty Images
It was a tale of two seasons for the Arizona Cardinals. A 1-6 start and injury to starting quarterback Kevin Kolb made it seem like the team was ticketed for a return to the top five of the draft. Enter John Skelton, an improved defense, and the punch provided by first-round pick Patrick Peterson in the return game, and the team rattled off seven wins in its last nine games to finish 8-8.
What would long-time Cardinals brass and current general manager Rod Graves do in the draft to keep the momentum going?
The Cardinals must have really loved Michael Floyd
Not that Floyd isn't an imposing prospect with a rare size/speed combination. The Cardinals have the best wide receiver in the league, and they were without a second-round pick. Floyd was widely seen as a best player available pick because of the possible intersections between need and value that the Cardinals passed up at edge rusher and on the offensive line. There were clearly suitors in the market for a trade up at that point in the first round, so the Cardinals could have easily traded down to patch the hole in their draft left by the Kevin Kolb trade.