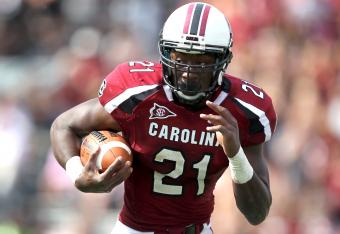 The NFL season isn't over yet, but talk of the 2013 NFL draft is already heating up. With the nation's top running back, Marcus Lattimore, reportedly entering the class, how will NFL teams view his stock?
The biggest concern with Lattimore's stock is the fact that he's coming off a gruesome knee injury suffered against Tennessee on October 27. This is Lattimore's second knee surgery in as many years, putting him in a category with Willis McGahee and Frank Gore as high-level talents who saw their college years cut short by injury.
McGahee and Gore went on to be drafted in the first and third rounds, respectively, which sets the bar for where Lattimore can hope to be drafted—but is that realistic?
Lattimore suffered his latest injury in late October. By comparison, McGahee had his second knee injury in the National Championship Game, which offered him less time to recover than Lattimore will have.