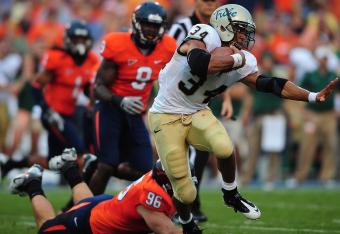 Andrew Weber-US PRESSWIRE
You can't blame the Houston Texans for trusting their ability to scout running backs form the undrafted free-agent crop. 2009 undrafted free agent Arian Foster has only turned into the league's leading rusher in 2010 and a franchise player entering this season.
So when one of the most respected beat writers in the league, John McClain of the Houston Chronicle, reports that the coaches "love" undrafted rookie running back Jonathan Grimes, we should take notice.
What do we know about Grimes? He was a four-year starter at William & Mary, capping his career with a 1,431 yard, 10-touchdown senior season. Sports Illustrated cited his elusiveness, instincts, vision, ability to run low to the ground and set up blocks, strength and leg drive as positives. He also graded out as a good receiver out of the backfield and blocker.
That makes Grimes sound like a first-round pick. The negatives, according to SI, are his ability to turn the corner, change direction on a dime and run away from defenders.