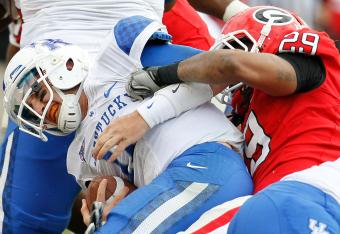 Kevin C. Cox/Getty Images
After Von Miller single-handedly transformed the Denver Broncos defense in 2011, the NFL has been on alert for the next dynamic edge rusher with the versatility to fit in any defensive scheme.
Based on early indications, Georgia's Jarvis Jones might be the next Miller, defying conventional wisdom about how high linebackers should go in the draft to crash the top five, or maybe even be taken first overall.
What is it about Jones' game that makes him more than a one-trick pony?
Overview
Jones is 6'2", 232 lbs; too small to put his hand on the ground, but substantial enough to hold his own in run defense, especially because he plays with good functional strength.