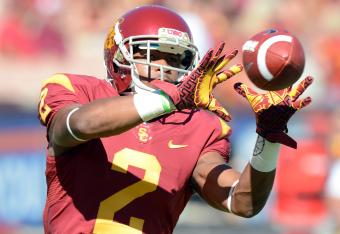 Harry How/Getty Images
The University of Southern California currently features two of college football's best wide receivers. Marqise Lee and Robert Woods are both Biletnikoff Award contenders, and both look like future first-round draft picks. But which standout Trojan will have the better NFL career?
Size
A quick look at the two USC wide receivers doesn't reveal many differences. Marqise Lee stands 6'0" and weighs 195 lbs. Robert Woods is listed at 6'1" and 190 lbs. Neither player has A.J. Green or Calvin Johnson-like size, but both are sleek, linear players with bodies built for speed and quick cuts.
Speed
When it comes to pure speed, USC has loads of it. Robert Woods doesn't lack speed, but it's not his strength. Woods can accelerate off the line to generate separation, but post-catch he's not a classic sprinter like Marqise Lee.
Lee is able to catch and explode, picking up more yards after catch than Woods and giving the offense more of a dynamic threat on crossing routes and in space. Lee's speed is more like what NFL teams are looking for from a wide receiver who doesn't possess a big frame.