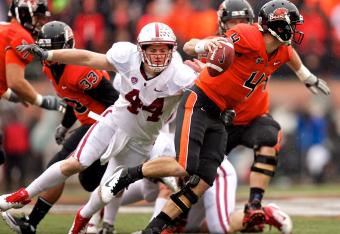 Craig Mitchelldyer/Getty Images
Mention Stanford to any fan of the NFL, and the first thing he or she will think of is Andrew Luck. While Luck and his former coach Jim Harbaugh put Stanford back in a prominent spot on the football map in 2012, it was the defense that led the way, and that defense was led by outside linebacker Chase Thomas. Does the aptly named defender's production in Pac-12 portend big things in his NFL future?
Strengths
Thomas is a high-effort player with a physical edge and great play awareness and recognition. He has a multitude of pass rush moves, and has very active hands when he engages his opponent. Thomas will dominate pass-blockers when the protection scheme does not put an offensive tackle on him. He has a lot of fight in his game, and he is a tone-setter on defense.
Weaknesses
As an athlete, Thomas is adequate at best. He can't run with backs or athletic tight ends or cover much range against the pass, and he has trouble changing direction quickly. Thomas won't be an effective edge-rusher to the outside because he can't turn the corner or get upfield fast enough to put the offensive tackle on his heels. Offensive tackles can blot him out on passing downs because Thomas lacks the arm length to go with his big frame.
Tools
At 6'3" 244 pounds, Thomas has nice NFL size, but his 32 1/4" arms keep him from being a legitimate defensive end prospect or pass rush specialist. He is probably faster than his 4.91 40 time, but it is still an accurate picture of his main liability as an athlete. His 32" vertical, 9'5" broad jump, and 7.17 three-cone combine measurement complete the picture of a limited athlete.