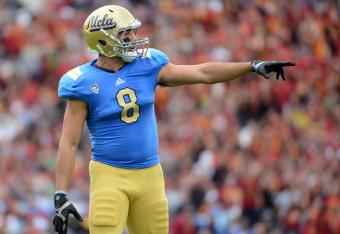 Harry How/Getty Images
Some teams are looking at San Diego State's Gavin Escobar as high as the second round because he's a massive receiving tight end with good hands and ball skills. Just up I-5 at UCLA, they could find a very similar talent in Joseph Fauria who could be available four or five rounds later.
What makes Fauria one of the biggest possible steals of Day 3?
Strengths
Fauria towers over any defender who is trying to cover him. He is a fluid athlete with good hands and concentration, and he has surprising strength for a tall receiver. He is a trump card in the red zone who teams will struggle to stop because he is very good at high pointing the ball and making catches in tight coverage.
Fauria is also quicker in his routes and a more effective blocker than his body type would lead you to believe.