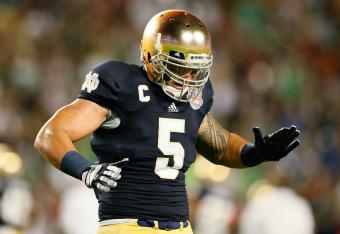 Kevin C. Cox/Getty Images
Scandals. Lies. Fake girlfriends. Fake deaths.

Amid a scandal unlike anything we've ever seen in college football, Notre Dame linebacker Manti Te'o has a lot on his mind, and at least one of those things is the upcoming 2013 NFL draft.
A one-time lock as a first-round pick, Te'o now faces intense scrutiny from NFL front offices that are infamous for their background checks. What has the "Catfish" scandal done to the Heisman candidate's draft stock?

Before the story broke, I had Te'o as a mid-first-round pick. Now, it's likely that a scandal of this proportion will indeed drive his stock down.
Based on conversations I've had in the last 24 hours with NFL personnel, a conservative estimate will be that Te'o falls one full round. That puts him closer to the middle of Round 2.
We're used to NFL draft prospects having baggage, but it's usually arrests or family issues. This is unprecedented, and you can bet it will affect Te'o's stock negatively.

In speaking with one NFL player this morning, he told me, "(I) don't think the casual or even hard-core draft people understand how big this is. Could be devastating. Like worse than finding injury/illness."