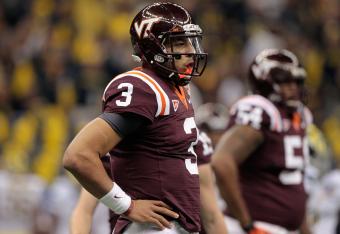 Chris Graythen/Getty Images
Many will jump to compare the play of Virginia Tech quarterback Logan Thomas to NFL Offensive Rookie of the Year Cam Newton, but are they really so similar?
At first glance, the two quarterbacks do seem very similar. Both are built like tight ends and stand out from the crowd as 6'5"-or-taller, well-built quarterbacks. It's easy to make the visual comparison that these two players do look alike on the football field due to their throwing motions, running style and physical dominance.
Newton made his mark at Auburn, and later with the Carolina Panthers, as a run-pass threat who was big enough to roll over tacklers and strong enough to thread the ball downfield. Similarly, Thomas is even bigger, stronger and may have a better short-to-intermediate arm.
At surface level, yes, Newton and Thomas play a lot alike, but digging down deeper, we've found the comparisons end at face value.