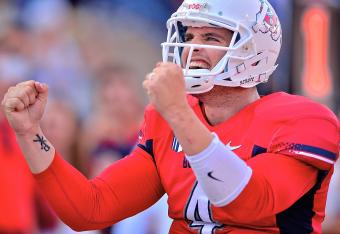 Getty Images
The week before conference championship games is usually a quiet one for NFL draft fans, but not this week. Instead, it's been a roller coaster of information and analysis.
We've lost two quarterbacks to season-ending ACL injuries. The No. 2 overall player in the class decided to head back to school. And as NFL teams dig in on prospects, concerns are growing about the No. 1 player in the class.
This and so much more awaits you in this week's Scouting Notebook.
— Oregon quarterback Marcus Mariota announced he will return to school for his redshirt junior season. The 20-year-old dual-threat star ranked as the No. 2 overall player in the draft before his announcement and will head into next season as the No. 1 prospect. Mariota's decision to return is a wise one, and it's something I talked about here last week. He still has room to grow and the reality is his age and lack of experience would have been a negative in the draft process. Now, Mariota can work on his game while making a run at a national title and a Heisman Trophy season in 2014.