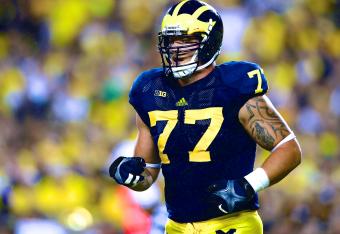 USA Today
One year after three offensive tackles were selected within the top five—Eric Fisher to Kansas City, Luke Joeckel to Jacksonville and Lane Johnson to Philadelphia—we're blessed with another fantastic offensive tackle crop in 2014. In fact, give me this year's group over the heavily lauded 2013 class.
With a group headlined by Greg Robinson (Auburn) and Jake Matthews (Texas A&M), who is the best of the bunch? That's what the NFL Draft 100 aims to find out.
The goal of the NFL Draft 100 series is to identify the best players at each position based purely on film study and analysis.
The B/R NFL Draft 100 metric is based on scouting each player and grading the key criteria for each position. The criteria are weighted according to importance on a 100-point scale. Unlike our NFL 1000 series, this project factors in upside for each player, as the NFL draft is as much about upside as it is about past production.