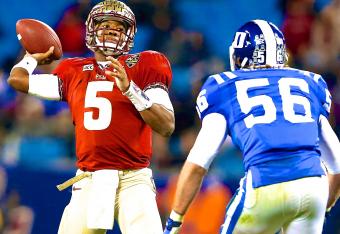 Getty Images
There is something great about walking outside on an August morning and feeling that dew in the grass, the hint of another hot day in the air, and knowing, with every bone in your body, that football season is just around the corner.
With the 2014 college football season kicking off this weekend, it's time to dust off the Scouting Notebook and start our weekly look at the upcoming 2015 NFL draft. This weekly feature (every Friday) will be published as a complete resource on rumors, news, notes, insights and analysis surrounding the 2015 draft class.
Let's get started.
- Let's kick things off with a great quote I received this week from a top-level AFC scout: "(The) key is to not miss on under-the-radar seniors this time of year. Plenty of time to evaluate the juniors."
- Speaking of the senior class, everyone loves a sleeper, and NFL scouts are raving about quarterback Bryan Bennett from Southeastern Louisiana. The former Oregon player was a backup to Darron Thomas and Marcus Mariota but started for the Lions in 2013. At 6'3", 205 pounds, he has the athleticism and arm teams want at the next level.