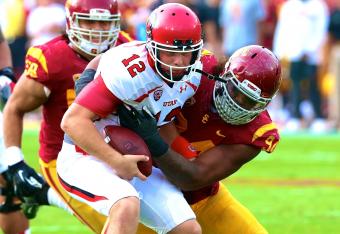 Getty Images
The 2015 NFL draft class projects to be a strong one on the backs of players such as Marcus Mariota (QB, Oregon), Brett Hundley (QB, UCLA), Jameis Winston (QB, FSU) and Brandon Scherff (OT, Iowa), but what about the defense?
That's where USC's Leonard Williams comes in. The 6'4", 300-pound junior has the talent, size, athleticism and production that NFL scouts will go crazy for. That's why he comes into the season as my top-ranked defensive player among all draft-eligible juniors and seniors.
What makes him so good?
Positional Versatility
The NFL is becoming more about versatility and how many different roles you can play on defense, and Williams fits that style perfectly.